Può capitare che mi ordinino delle torte con un soggetto che proprio non mi piace, e devo essere brava a creare un bozzetto che mi rappresenti lo stesso e che mi faccia divertire nella realizzazione...
Altre volte invece sono entusiasta della richiesta perchè mi permette di realizzare qualcosa che amo, come in questo caso!
Il cartone animato di Alladin è uno dei miei preferiti, ricordo ancora quando cantavo "il mondo è mio" nei viaggi in macchina insieme a mio fratello.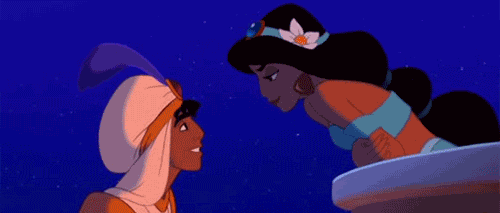 Quindi sono stata felicissima di poter realizzare la principessa Jasmine sul suo tappeto volante per il compleanno di Chiaretta.
It may happen that they order me cakes with a subject that I really don't like, and I have to be good at creating a sketch that represents me the same and that makes me enjoy making it ...
Other times I am enthusiastic about the request because it allows me to create something I love, as in this case!
The Alladin cartoon is one of my favorites, I still remember when I sang " A Whole New World " on car trips with my brother.
gif
So I was happy to realize Princess Jasmine on his flying carpet for Chiaretta's birthday..
E'stato impegnativo, soprattutto realizzare il viso, ma sono soddisfatta del risultato.
Ho realizzato Jasmine in pasta di zucchero, modellando a mano ogni elemento. anche il tappeto e le nuvole sono in pasta di zucchero.
It was challenging, especially making the face, but I'm satisfied with the result.
I made Jasmine in sugar paste, modeling each element by hand. even the carpet and the clouds are in sugar paste.
So che il viso non è proprio uguale all'originale, ma spero che la festeggiata sia stata felice ugualmente
I know that the face is not exactly the same as the original, but I hope that the birthday girl was equally happy
Ho sempre amato guardare i cartoni animati...ed ora che ho figli ho la scusa per guardarli ancora più spesso :-)
I have always loved watching cartoons ... and now that I have children I have the excuse to watch them even more often :-)
#idolcididede #cakedesign #cakedesigner #pastadizucchero #jasmine #princessjasmine #alladin #ilmondoèmio #awholenewworld